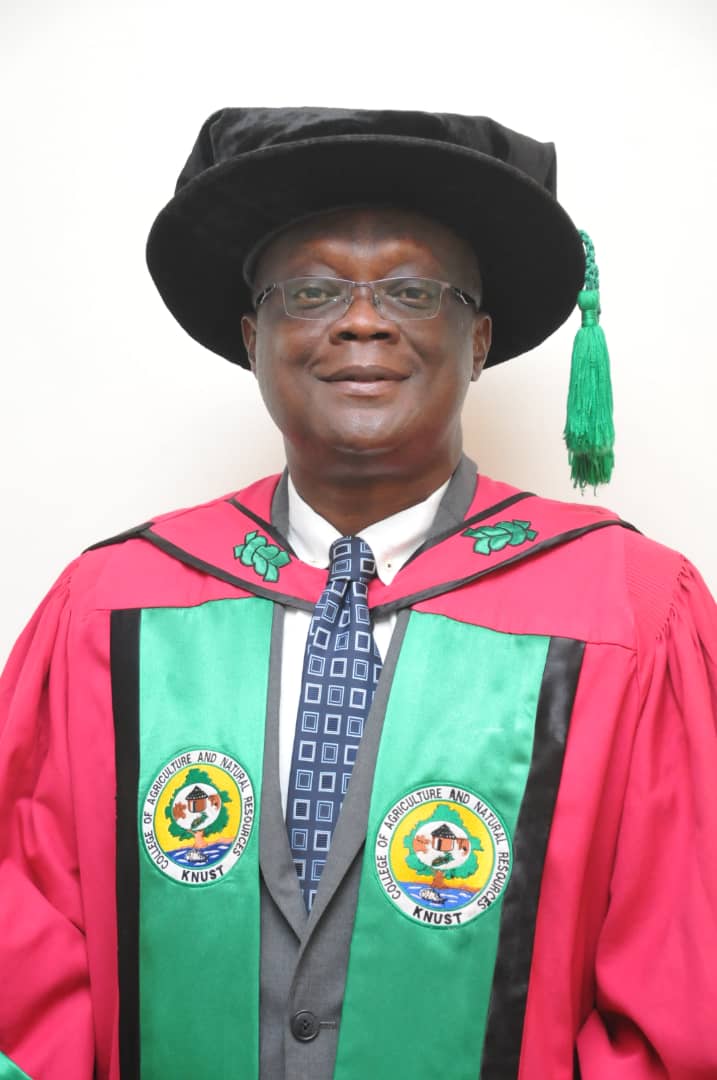 Professor B. K. B. Banful is the New Provost at the College of Agriculture and Renewable Natural Resources (CANR) of the Kwame Nkrumah University of Science and Technology, since August 1, 2020. As a distinguished academic and expect in various fields, Prof. Banful begun his academic journey at the University of Cape Coast and graduated in 1988 (B.Sc. Agriculture).  He proceeded to study for an MPhil and a PhD in Crop Science (Agronomy) at the University of Ghana, Legon, graduating in 2006. A list of his key qualifications & expertise includes:
Expert knowledge in Bio-statistics

Expert knowledge in crop yield assessments – physiology and methodologies

Good knowledge in postharvest systems of vegetable and fruit crops

Strong background in value chain systems in cereals, vegetable and fruit crops

Expert knowledge in business plan formulation and development

Considerable experience in organizing workshops for training farmers and processors in value-addition systems

Familiar with local value chain stakeholders in the vegetable and fruit industries at the national level

Knowledgeable in the development and implementation of training programs, reporting and project management

Conversant with national vegetable and fruit crops standards developed by the Ghana Standards Board

Exceptional organizational skills and strong facilitation and communication skills

Good in proposal writing for funding of projects

Expert in editing of scientific materials

Good scientific writing skills 

Conversant with international reporting formats and requirements from international donor projects       
He joined CSIR-CROPS RESEARCH INSTITUTE, KUMASI, in 1990 as an Assistant Research Scientist and progressed to Principal Research Scientist in 2009 before joining KNUST. Prof. Banful has over 11 years of University teaching, research and administrative experience. He is the immediate past Dean of the Faculty of Agriculture, KNUST (2018 to 2020).  He previously served in various capacities at the University: Hall Master, Queen Elizabeth II Hall. Deputy Chairman, Committee of Hall Administrators. Head of Department, Department of Horticulture. Member, College Board, College of Agriculture and Natural Resources. Member, Faculty Board, Faculty of Agriculture, College of Agric. and Natural Resources, KNUST, Kumasi, Member, Institute of Distance Learning Board, KNUST, Kumasi.
Professor Banful was instrumental as a Lead Consultant in establishing the Brong Ahafo Region Agricultural Coordinating Unit and Strengthening of Northern Region Agricultural Coordinating Unit. Funded by AGRA. He is currently the Team Leader of the KNUST-Eni Ghana Okuafo Pa Agribusiness Training Project (Project worth is over 2.5 million US Dollars). His enormous expertise in research, consultancy and project management has attracted various projects worth several millions of US Dollars to the University. Some of the projects include:
Lead Consultant, Establishing Brong Ahafo Region Agricultural Coordinating Unit and Strengthening of Northern Region Agricultural Coordinating Unit. Funded by AGRA.

Project Consultant, KMA/KNUST Kumasi Trees and Shrubs Beautification Project. Funded by KMA.

Project Consultant, KNUST Landscaping and Environmental Improvement works. Funded by KNUST.

Lead Consultant, Plantain sucker multiplication and distribution to farmers under the SCAF Project. Funded by SNV (Netherlands Development Organization), Ghana.

Project Coordinator, KNUST/REP Technology Promotion and Dissemination Project. Funding by REP, Ghana.

Project Coordinator, KNUST/LGS District Assemblies Enabled Programme for Accelerated Socio-Economic Development. Funded by LGS, Ghana.

Project Leader, Enhancement of Teaching and Learning at the Department of Horticulture, KNUST. Funding by EDAIF, Ghana.

Project Leader, Technology Dissemination for the Improvement of Plantain Production. Funding by EDAIF, Ghana.

Project Leader, Use of HYT bio-stimulants and protectants for growth, yield and postharvest improvement of plantain. Funding by AGRINOS AS, Norway.
Prof. Banful has published widely in peer review scientific journals including high quality articles, edited conference papers, books and production manuals. He is an Editorial Board Member and a reviewer for several reputable journals in his field.
Prof Banful is a member of various Scientific Bodies in the Seed and Fertilizer Sector:
Member, Committee to Review Ghana Seed Regulatory Framework in line with ECOWAS Seed Regulation.

Member, Alliance for Seed Industry in West Africa (ASIWA). Alliance comprise stakeholders in the seed sector.

Member, consortium of experts on entrepreneurship for commercial seed incubation business.

Member, Committee for the Development of Fertilizer Field Testing Protocols for Ghana.

Member, Pool of experts for field testing of fertilizers and Bio-stimulants for Plant Protection and Regulatory Services Directorate of MOFA.

Member, Pool of experts for field testing of Plant Growth Regulators and Pesticides for Environmental Protection Authority.

Member, team of experts developing an Integrated Seed Curriculum for Africa encompassing Seed Science and Technology, Seed Business and Management and Seed Systems and Development, KNUST.
We welcome Professor BEN KWAKU BRANOH BANFUL into this new position and wish him well as he takes on the mantle of key leadership position as part of the University senior management team.
Phone: +233 242205319
Email: bproofa@gmail.com 
Office: Provost Office,CANR
Office Hours: 08 hours to 17 hours
Address: Provost Office, CANR- KNUST, Kumasi, Ghana