The College of Agriculture and Natural Resources (CANR) has organised the 6th Workshop on University Policies on 'Peer and Professional Evaluation of Teaching (PPET) Policy. The Workshop was held on the Thursday, July 21st, 2022.
The speaker, Prof. Nathaniel Owusu Boadi, stated in his presentation that the Policy seeks to "ensure that best practices are shared among peers in teaching and learning settings such as classrooms, studios, laboratories, clinics, and fieldwork."
He further added that the Policy "intends to promote and evaluate transformational student-centered and problem-based teaching and learning as envisioned in the KNUST Strategic Plan (2016-2025) and fulfills the National Accreditation Board's requirement for all tertiary institutions to have a peer and professional evaluation of teaching.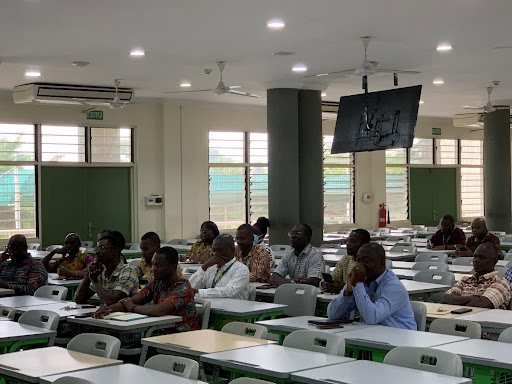 He underscored that the policy would be reviewed bi-annually with reference to performance indicators such as staff satisfaction, student satisfaction, and productivity to ensure its full integration and that there shall be no disclosure of individual evaluation reports to third party. Participants shared their views on peer assessment on classroom management, engagement, and the use of teaching materials. Others suggested practical approaches through which mentorship can be improved among staff in the university.  
The University policy on Peer and Professional Evaluation of Teaching Policy can be accessed via the web address below:
  https://www.knust.edu.gh/sites/default/files/2019-02/PEER%20AND%20PROFESSINAL%20EVALUATION%20OF%20TEACHING%20Policy2018.pdf